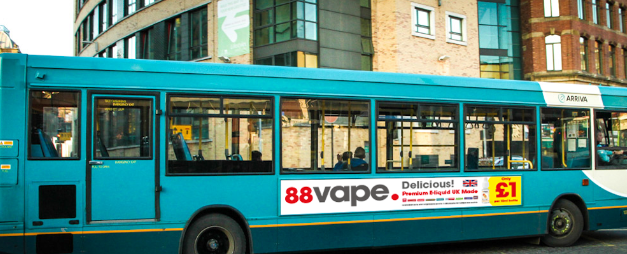 OUR LARGEST OUTDOOR ADVERTISING CAMPAIGN TO DATE 
Our Delicious campaign will reach 1.5 billion impacts over the next 12 months!!
88vape is soon to launch our largest outdoor campaign. Across bus rears, mega bus rears, streetliners and 48 digital sheets. This campaign will continue to build our brands awareness, offering support for our retailers who have seen great success in listing our 88vape £1 range.
This campaign advertises the delicious taste our e-liquids deliver to the end consumer, alongside the attractive retail price £1. This campaign will
88VAPE IS THE UK'S GREAT TASTING £1 E-LIQUID RANGE, MADE RIGHT HERE IN MANCHESTER
88Vape manufacturer some of the UK's favourite flavours of £1 e-liquid and sell some of the country's best-looking vape kits. Our 88Vape brand offers the taste of freedom to the end consumer. Freedom from ever-rising cigarette prices. Freedom from questioning the quality, believing price and quality go hand in hand!  The 88Vape brand is all about high-quality at an affordable price!